Liquid Mind Analog Chorus
Chorus analogico dal suono avvolgente, fluido e mai estremo, ottenuto grazie all'impiego di un dispositivo Bucket Brigade, una precisa realizzazione dell'oscillatore LF ed alla scelta dei migliori componenti elettronici utilizzabili. Particolare attenzione è stata dedicata al layout del circuito con l'obiettivo di eliminare completamente il rumore "click noise" derivante dal LFO. Oltre ai classici controlli di DEPTH e SPEED, è presente la regolazione fine del tono "COLOR" del segnale effettato.
Immagina il Chorus che si fonde con il tuo sound fino a diventare suono e non parte di esso…
Immagina il Chorus dal suono elegante e fluido…
Immagina il Chorus che con il tuo overdrive non suona aggressivo ma mantiene una musicalità naturale mai ascoltata prima…
Ora accendi il Chorus… è il Liquid Mind.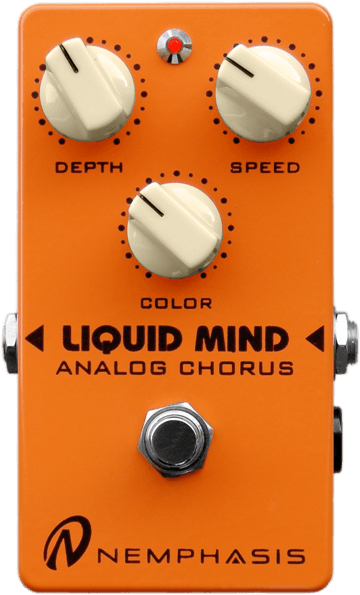 Reviews


Guitar World by Billy Voight
"….A complete Liquid Mind zenlike state can be reached if you set the Depth pretty deep and keep the Speed slow. You might begin to remember the '60s whether you were there or not!"
Guitarist Magazine by Trevor Curwen
"If you're specifically looking for vintage analogue mono chorus sounds, you'll find them here"
go to the review


Analog is Better!
Controlli di Speed – Depth e Color del segnale effettato.
BBD Bucket Brigade Device.
True bypass.
---