Liquid Mind Analog Chorus
The analog Chorus with an enveloping sound, smooth and never extreme, obtained thanks to the employment of a Bucket Brigade device, accomplished with an accurate LF oscillator and a choice of the best electronic components available. Particular attention has been dedicated to the layout of the circuit with the aim of fully eliminating the sound of the "click noise" derived from the LFO.
In addition to the classic controls of DEPTH and SPEED there is also the adjustment of the tone "COLOR" of the effected signal.
Imagine the Chorus that blends with your sound to become the sound and not just part of it…
Imagine the Chorus with an elegant and smooth sound…
Imagine the Chorus that with your overdrive does not sound aggressive but maintains a natural musicality never heard before…
Now switch the Chorus on…it's the Liquid Mind.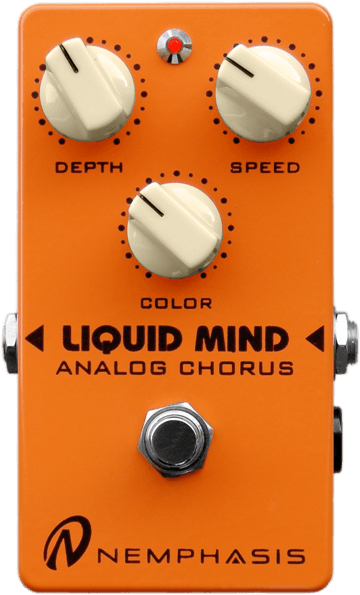 Reviews


Guitar World by Billy Voight
"….A complete Liquid Mind zenlike state can be reached if you set the Depth pretty deep and keep the Speed slow. You might begin to remember the '60s whether you were there or not!"
Guitarist Magazine by Trevor Curwen
"If you're specifically looking for vintage analogue mono chorus sounds, you'll find them here"
go to the review


Analog is Better!
BBD Bucket Brigade Device.
Speed – Depth and Color control knobs.
True bypass.
---