Liquid Mind Analog Chorus
Chorus analogico dal suono avvolgente, fluido e mai estremo, ottenuto grazie all'impiego di un dispositivo Bucket Brigade, una precisa realizzazione dell'oscillatore LF ed alla scelta dei migliori componenti elettronici utilizzabili. Particolare attenzione è stata dedicata al layout del circuito con l'obiettivo di eliminare completamente il rumore "click noise" derivante dal LFO. Oltre ai classici controlli di DEPTH e SPEED, è presente la regolazione fine del tono "COLOR" del segnale effettato.
Immagina il Chorus che si fonde con il tuo sound fino a diventare suono e non parte di esso…
Immagina il Chorus dal suono elegante e fluido…
Immagina il Chorus che con il tuo overdrive non suona aggressivo ma mantiene una musicalità naturale mai ascoltata prima…
Ora accendi il Chorus… è il Liquid Mind.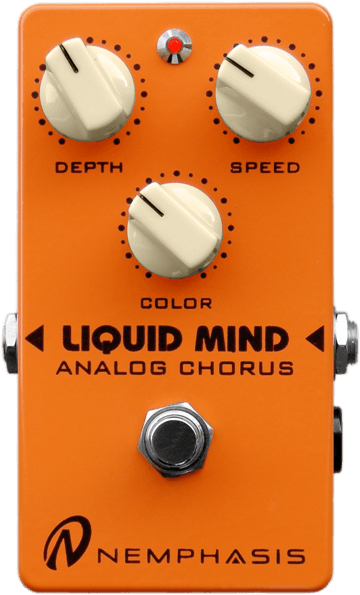 Reviews


Guitar World by Billy Voight
"….A complete Liquid Mind zenlike state can be reached if you set the Depth pretty deep and keep the Speed slow. You might begin to remember the '60s whether you were there or not!"
Guitarist Magazine by Trevor Curwen
"If you're specifically looking for vintage analogue mono chorus sounds, you'll find them here"
go to the review


Analog is Better!
Controlli di Speed – Depth e Color del segnale effettato.
BBD Bucket Brigade Device.
True bypass.
---
Steam Bass Analog Chorus
Non poteva mancare in casa Nemphasis, il più classico e bel pedale di modulazione per basso elettrico.
Steam Bass: il chorus analogico per basso costruito senza compromessi per accontentare anche i musicisti più esigenti!
Suono estremamente focalizzato, controllato e dinamicamente integro per non perdere nemmeno il più piccolo dettaglio esecutivo ma al tempo stesso avvolgente ed "onirico" grazie alla circuitazione analogica e all' impiego di un dispositivo Bucket Brigade.
Trovare il tuo sound non è mai stato così facile con gli efficienti controlli presenti sullo Steam Bass. Oltre ai classici controlli di Speed e Depth, lo Steam Bass ha un controllo FX Level che permette la regolazione fine della quantità di segnale effettato e spazierai tra un chorus appena accennato ed un effetto carico e vibrante, estremamente gradito agli amanti della sperimentazione e dell' ambient music. Non ci siamo accontentati, volevamo che il tuo basso mantenesse la propria intelligibilità a frequenze estremamente basse ed ecco inserito lo switch "HPF" – High Pass Filter – attraverso il quale potrai selezionare la frequenza di intervento del filtro passa alto con una pendenza di 6db/oct inserito sulla linea del segnale effettato: L per maggior presenza effetto
sulle note gravi, H per minor presenza effetto sulle note gravi.
Steam Bass? Ce l'ha chiesto la tua pedaliera.


Michelangelo Brandimarte
Was voted among the best 10 bassists for the Italian magazine Jazzit in 2012, 2013 and 2014. He works constantly looking for new sounds with bass, synth, and effects. He have a Bass Solo performance and is recording a Solo Album.
Il pedale che uso maggiormente, quello che in ogni occasione e per ogni tipologia di suono ti fa dire "grazie nemphasis" Stupendo versatile e dalla personalità forte. poi il punto di forza è i' High Pass Filter… geniale!
Reviews
Guitar Interactive Magazine by Dan Veall
VT Comp, Smoking Bass, Steam Bass review
Analog is Better!
Controlli Speed – Depth e livello segnale effettato.
Filto passa alto HPF selezionalbile per una migliore definizione delle note gravi.
True bypass.
---