White Scream Overdrive
Il suo suono setoso ed elegante lo distinguono da ogni altro overdrive mai costruito. Incredibilmente caldo e morbido, è in grado di far cantare ogni linea suonata. Il controllo di tono a due bande, permette un ottimo interfacciamento con ogni strumento o situazione acustica. Rumorosità incredibilmente bassa anche con regolazioni estreme.
Ti eri mai sentito a suonare così?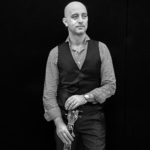 Alessio Menconi
played in tour in Europe, Asia, Africa, North, South and Central America playing in more than 30 countries and recording over 40 cds with several musicians...
Uso spesso l'overdrive non tanto pensando alla chitarra rock ma semplicemente trasformando la mia chitarra in qualcosa di diverso….pensando ad uno strumento a fiato ad esempio. Per questo ho bisogno che il suono con l'overdrive abbia la stessa qualità ed intelligibilità del suono clean. Appena ho provato questo pedale sono rimasto sorpreso dalla qualità del suono e dalla possibilità che mi da di suonare anche semplicemente delle melodie. Riesco ad utilizzarlo con una Gibson 175 ed il suono è magnifico; nonostante sia una archtop, puoi suonare anche frasi veloci sui bassi e sentire perfettamente ogni singola nota. Il suono può ricordare un TS8 ma in realtà ha molta più personalità in quanto la possibilità di modificare i bassi e gli alti lo rende più versatile e gli da una gamma vastissima di suoni. Davvero un bellissimo overdrive per un uso originale come il mio!
Analog is Better!
Bassisimo rumore di fondo.
Incredibile controllo dinamico.
Doppio controllo di tono – bass e treble – per una maggiore versatilità.
True bypass.
---