Silver Box Booster
"This goes to 20…" La naturale estensione del potenziometro della chitarra.
Il Silver Box Booster offre fino a 22 dB di clean boost, un overdrive naturale e rispettoso di ogni nuance esecutiva, e un EQ altamente musicale, il tutto mantenendo inalterate le caratteristiche timbriche dello strumento.
Da suoni clean puliti e brillanti a sonorità crunch altamente dinamiche, da suoni corposi a spettro pieno fino a sonorità che tagliano il mix con decisione, il Silver Box fornisce un suono "in your face" pieno di carattere e presenza.
Il multi tool perfetto per il professionista.
Il Silver Box Booster nasce dalla collaborazione di Nemphasis con l'amico e musicista Marco Tafelli.

Pete Callard
Shpongle, Lionel Richie, Queen, Annie Lenox, Shirley Bassey, Kd Lang and more...
"Cleary the product of witchcraft, this pedal takes your sound and simply make it better! The Silver Box Booster is so much more than simply a clean boost, giving you huge tonal options and everything from clean sparkle to mild distortion coupled with all the boost any sane person could possibly desire..."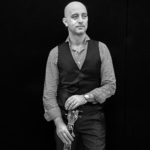 Alessio Menconi
played in tour in Europe, Asia, Africa, North, South and Central America playing in more than 30 countries and recording over 40 cds with several musicians...
Molti usano il booster per alzare il volume, e per questo ce ne sono tanti e sono tutti uguali; ma quando invece vuoi semplicemente arricchire il suono senza snaturarlo,in questo caso non sono tutti uguali . Questo pedale dimostra la qualità e la cura nel dettagli con cui sono progettati i pedali nemphasis. Io uso il Silver Box per dare più corpo e pochi db in più al mio strumento ed utilizzandolo in catena con il "White Scream" ottengo tutti i suoni che voglio senza che quasi l'ascoltatore capisca che ho un booster.
Analog is Better!
Clean boost fino a 22 dB.
Doppio controllo di tono – bass e treble – per una maggiore versatilità.
True bypass.
---