O2 Oxygen Bass Preamp
Preamplificatore per basso
L'O2 Oxygen Bass Preamp, preamplificatore per basso, grazie ai suoi 5 controlli, permetterà di avere sempre a disposizione il suono che serve in studio o sul palco.
Oltre al controllo di Gain e Level, l'O2 dispone di un controllo di tono a tre bande per un'equalizzazione, semplice da regolare, ma estremamente efficace.
La definizione e l'intelligibilità del tuo basso e dell'esecuzione miglioreranno se lo utilizzerai come booster, mentre, agendo sulla precisa equalizzazione e controllo gain le loro caratteristiche verranno esaltate. Il selettore "MID SHIFT" permette la selezione rapida di due distinti suoni: profondo, caldo e full range oppure veloce e scolpito. L'interruttore accessibile internamente "BASS BOOST" spremerà ulteriori bassi dall'O2 Pre per un suono ancora più potente ma sempre dinamico e definito.
Ogni nota verrà scolpita con l'O2 Bass Preamp!

Analog is Better!
Due suoni distinti selezionabili.
Cinque controlli per la miglior impostazione del tuo suono.
True bypass.
---
O2 Oxygen Bass Preamp – Pro Series
Preamplificatore per basso e contrabbasso con uscita D.I.
O2 Oxygen, preamplificatore per basso professionale con uscita D.I., da respiro al basso, lo sostiene, ne enfatizza il carattere e la tua tecnica. Grazie agli efficienti e sensibili controlli disponibili permetterà in ogni situazione, sia essa live o studio, di avere a disposizione il tuo suono.
Efficace con amplificatori digitali, a stato solido o valvolari e con basso elettrico e contrabbasso elettroacustico.
Collegato ad un impianto P.A. rappresenta una pratica alternativa all'amplificazione dedicata e l'uscita bilanciata D.I. permetterà l'interfacciamento ottimale sul palco o in studio.
Il foot-switch "MODE" permette la rapida selezione di due distinti suoni: scavato caldo e morbido, oppure più duro, veloce e reattivo ma entrambi sempre dinamici e definiti.
Uno strumento creativo, che consentirà di avere moltissimi suoni e sfumature a disposizione.
O2 Oxygen, mai più senza…

Tom Williams
Currently working with artists Michael Malarkey (star of Hollywood's 'The Vampire Diaries') Lucy Rose, Leogun and his own band No Sugar with Kristian Marr (Amy winehouse), Pete Williams (dexys) and many others...
My O2 PRO oxygen preamp allows me the instant control I need. Whatever gig I'm playing, I know I'm sounding great!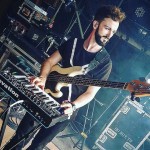 David Kyle Payne
Play with UK artists such as Karen Harding, John Newman, Craig David, Ben Haenow and Nina Nesbitt to name a few, at some of the biggest venues and festivals in the UK and Europe. David is currently the full-time bass player for chart-topping UK Producer Sigala and X-Factor winner Joe McElderry.
As soon I plugged in the O2 Oxygen Bass Preamp I knew it was the sound I had been looking for.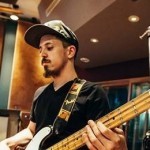 Andy Attanasio
Brooklyn-born bass player member of The Slim Kings.
The oxygen 02 bass preamp gives me the ability to quickly dial in my sound for a studio or live situation. Lots of low end that sounds natural, and the mode switch is great for a quick midrange boost when i want to cut through the mix.
Michelangelo Brandimarte
Was voted among the best 10 bassists for the Italian magazine Jazzit in 2012, 2013 and 2014. He works constantly looking for new sounds with bass, synth, and effects. He have a Bass Solo performance and is recording a Solo Album.
Ho sempre avuto bisogno di questo preamp, sia dal vivo che in studio. Versatilissimo sia sul basso elettrico che sul contrabbasso, sia finendo in un amplificatore che in un PA (e in entrambi). Grandissimo suono e parametri chiari ed efficacissimi. Ho usato in passato altri preamp a pedale come il Sans Amp o il bass metaphors di Ehx ma l'O2 ha una marcia in più.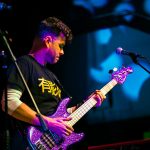 Jason Tebble
He has played for JJ Rosa, Odyssey, Laura White, Boy Matthews and Tokyo Taboo to name a few. He is also a founder member and co-writer for UK funk rock outfit - Circus VIII / Circus VIII
'I was recommended the O2 preamp by fellow endorser David Kyle Pane and have never looked back, particularly on gigs using IEM's the character and warmth it adds to my bass is incredible. I also use the Smoking Bass distortion for a smooth crunchy boost. It nails the sweet spot between clean and Big Muff levels of craziness.'
Analog is Better!
Due suoni distinti selezionabili con il foot-switch "MODE"
Uscita bilanciata D.I. con FET buffer in classe A.
True bypass.
---