Tentacles Hum Free Regulated Power Supply
Available for European market only. Input 230 V AC 50/60 Hz
The Tentacles power supply provides a compact, robust and reliable pedalboard power supply.
The output voltage is 9.6 VDC*  that makes the Tentacles power supply suitable to powering all effect pedals running at 9 VDC.
The Tentacles has 2 groups of outputs galvanically isolated with four connections for each group. Due to the separation of the grounds and to the use of quality electronic components, the noise floor is considerably reduced.
The rugged construction allows the Tentacles to deliver maximum power without fluctuations of the voltage supplied.
* The common 9V battery (6LR61) used in effect pedals, if fully charged, provides a voltage of 9.6VDC.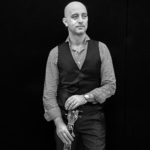 Alessio Menconi
played in tour in Europe, Asia, Africa, North, South and Central America playing in more than 30 countries and recording over 40 cds with several musicians...
L'alimentatore fa un lavoro importantissimo senza che nessuno lo consideri! Certo non è un effetto, ma quando ti accorgi come ho fatto io, che con un ottimo alimentatore tutti i pedali suonano meglio ne capisci la reale importanza; questo è ciò che mi è successo con il tentacles. Dimenticavo: posso accendere tutti i pedali ed il rumore di fondo è ridotto al minimo per non dire inesistente! L'ho attaccato sotto la pedaliera e me ne sono dimenticato; come le fondamenta di un palazzo, il tentacles fa un ottimo ed indispensabile, lavoro senza che nessuno lo veda o lo senta.
High quality at the lowest price
8 ouputs and 2 groups of isolated grounds.
800 mA  total current available.
High stability.
Small size and weight.
---