White Scream Overdrive
Its silky and elegant sound sets it apart from every other overdrive ever built.
 Amazingly warm and soft, it is able to let each played line sing.
The two-band tone control allows an excellent interfacing with any instrument or acoustic situation.
Incredibly low noise level even with extreme settings.
Have you ever heard yourself playing like this?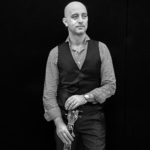 Alessio Menconi
played in tour in Europe, Asia, Africa, North, South and Central America playing in more than 30 countries and recording over 40 cds with several musicians...
Uso spesso l'overdrive non tanto pensando alla chitarra rock ma semplicemente trasformando la mia chitarra in qualcosa di diverso….pensando ad uno strumento a fiato ad esempio. Per questo ho bisogno che il suono con l'overdrive abbia la stessa qualità ed intelligibilità del suono clean. Appena ho provato questo pedale sono rimasto sorpreso dalla qualità del suono e dalla possibilità che mi da di suonare anche semplicemente delle melodie. Riesco ad utilizzarlo con una Gibson 175 ed il suono è magnifico; nonostante sia una archtop, puoi suonare anche frasi veloci sui bassi e sentire perfettamente ogni singola nota. Il suono può ricordare un TS8 ma in realtà ha molta più personalità in quanto la possibilità di modificare i bassi e gli alti lo rende più versatile e gli da una gamma vastissima di suoni. Davvero un bellissimo overdrive per un uso originale come il mio!
Analog is Better!
Extremely low noise overdrive.
Unique dynamic control.
Treble and Bass tone controls for greater versatility.
True bypass.
Scrupulously searched out and selected electronic components.
True bypass.
Full analog.
Jack input / output 6.3 mm 1/4″ on the sides.
Four controls allow adjustment of gain, tone (bass and treble) and volume. LED indicates the effect is on.
The LED indicates the effect is on.If the supplied voltage is less than 7.5V the LED does not light up.
No click /pop at effect activation.
Power supply 9 VDC via battery or external power supply unit. Battery replacement is possible by removing the four screws on the bottom cover.
For proper operation it is recommended to use batteries with voltage not lower than 8 V.
The external power supply, with regulated power supply is possible via 2.1 mm-plug with negative centre (standard Boss)
Power consumption 10 mA (max).
Dimensions (mm): 75 X 120 X 55
Weight (g): 250 (without battery).
---